Herbex, the miracle of nature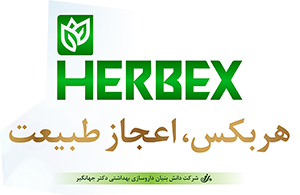 Increasing the demands for herbal and natural products for skin and hair care and necessity of responsiveness to desires and the diverse demands of the community, has led Dr. Jahangir Company to develop a new brand by name of Herbex.
Herbex is a new chapter in the achievements of skin and hair care products, relying on innovation and practical researches that entered the Iranian cosmetics market in 2011. In these regards, at the first step R&D department stablished by utilizing the knowledge and experience of specialized staff in the fields medicinal herbs, pharmacy, chemistry and etc. After that large volume of specialized and public studies done which provides a comprehensive source of practical sciences. Also a medicinal plants site founded, base on research and production in the Zagros region (Lorestan province - Khorramabad). For cultivation, extraction and various studies which has led to the achievement performed at the operation level in addition to theoretical and laboratory researches. Cultivating medicinal plants in field level and producing from field to factory became superiority for Herbex products.
Scientific studies on properties of cultivated plants and methods to extract their effective ingredients, use of high quality raw materials and continuous quality control are the most important advantages of Herbex products in the health and cosmetics industry in Iran. For such reasons we can introduce Herbex as a miracle
of nature.
Utilization of the modern technological equipment and new methods such as nanotechnology approaches beside of bright background are some of the capabilities of company. All these advantages are available in the products of this brand, including Herbex Propolis toothpaste, Herbex anti-hair loss and booster lotion (for hereditary hair loss). Herbex Repairing Cream, Herbex Face Wash Lotion, Herbex brightener and peeling Mask, Herbex Anti-acne, Herbex black mask, Herbex sunscreen cream (Colorless), Herbex Lightening Cream, Herbex cleansing milk, Herbex body Lotion, Herbex shower gel, Herbex hair dye stabilizing shampoo, Herbex shaving gel, and etc.