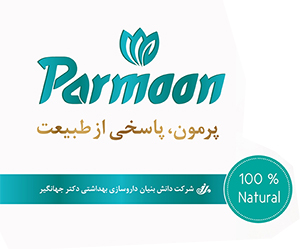 «
Parmoon, is gifted by nature 
»
Parmoon is a leading and memorable Iranian brand in the field of herbal cosmetics and hygienic with about 40 years of high-quality production.
Parmoon products mainly include herbal shampoos, conditioners, hair gels and etc. that have been publicly available by the best quality and utility through the years.
Iranian society's trust in Parmoon products is due to the high quality and effectiveness of these products. Moreover is the result of the effective performance of the products and providing health with natural and herbal ingredients for the community, nowadays new phase of science are on the agenda as new-generation products.


Taking advantage of the potential of Zagros medicinal plants with the development of researches, and emphasizing innovation in production, are the capabilities of Parmoon brand that after years of successful experience allow us to say Parmoon is gifted by nature.
Currently, Parmoon products includes Parmoon rice bran shampoo, Parmoon rosemary shampoo, Parmoon green tea shampoo, Parmoon tea tree oil shampoo, Parmoon repairing shampoo, Parmoon Katira shampoo, Parmoon Garlic shampoo, Parmoon shower shampoo, Parmoon kids shampoo, Permanent Hair Glue Spray, Parmoon Tragacanth hair gel, Parmoon hair serum, Parmoon Ostrich oil Cream, and Parmoon ostrich Oil and etc. The best quality and most effective ingredients are at service by our product to different needs of society.
.